We all have the power within, yet it is a complex and challenging topic for many of us.
What does it actually mean, to be powerful?
When we hold our power back, we suppress ourselves and we become victims.
When we overpower others, we suppress them and make them small.
When we share our power with the world in a conscious, loving way, we become the amazing resources we were born to be.
This Lifedancing workshop will support you in the process of cultivating an embodied, conscious relationship to power.
– Centering: let the body be your solid foundation
– Grounding: let earth and life support you
– Build up and contain power through the body
– Direct and express power through your individual dance and voice
– You don´t have to do it alone: let others support you as you support them
Lifedancing, respectful touch, meditative singing and silent meditation.
The workshop will be held in easy to understand English.
I´ve Got The Power – Lifedancing Workshop
January 26-27, 2019
245 €, Kyodo, Hamburg

Shake Your Everything – Open Lifedancing evening
January 25, 2019
15 € (included in the cost for workshop participants), Kyodo, Hamburg
Information and registration Claudia Seifert +49 173 1085091 info@claudiaseifert.de
Radha – Discover A Path To Devotion
Women's Temple and Lifedancing 
Yashodhara van Vilsteren & Carina-Maria Möller Caur
April 5-7 2019, Gut Helmeringen nähe Ulm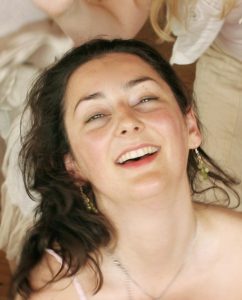 Dive right into the sweetness of nothing held back love.
Let your heart explode with devotion.
It´s time to connect with Radha!
When spirituality tends to be self-centred and lukewarm, Radha connects us with devotion.
She is guiding us through resistance and pain right into longing, truth and love.
She is bridging worldly, sticky "love" with universal, unconditional love, and even though she is humble, she is not holding anything back.
She is teaching us that when we give it all, we get it all, and she encourages us to go all in, no matter what.
During this weekend we will dive deeply into temple practices and goddess yoga:
– Respectful touch: give and receive healing touch
– Dialogue practices and sharing circles
– Devotional singing: a sacred portal into the Divine
– Silent meditation: connect and integrate awareness with spacious presence
– Lifedancing: enter the knowing body that holds, contains and moves it all
Date: April 5-7 2019,  Friday 5 pm till Sunday 5 pm
Location: Gut Helmeringen, 89415 Lauingen, nähe Ulm: www.gut-helmeringen.de
Regular cost: 280 €
Early bird cost: 230 € – registration and payment before February 1 2019
Lodging including food: 60 € – 92 €/day
Registration: www.komm-dir-naeher.de